Friday, January 21, 2005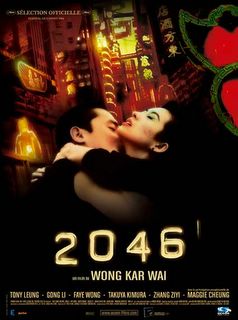 Title: 2046
Cast: Tony Leung, Li Gong, Takuya Kimura, Faye Wong, Ziyi Zhang, Carina Lau, Ping Lam Siu
Director: Wong Kar Wai
2046 is a sequel to Wong Kar Wai's In The Mood For Love; probably the Hong Kong director's most successful film to date. Set in the 1960's, In The Mood For Love followed two couples staying in the spare rooms of neighbouring families. Tony Leung and Maggie Cheung's characters keep bumping into each other, while their other halves are notably absent. Lushly moody, In The Mood For Love explores the pair's realisation that their partners are actually having an affair. In the process the two find feelings for each other, but time has passed since then and Tony Leung is now on his own, even if he is caught in those past events.
2046 is an episodic series of events following Leung's life over a number of years, and particularly how he interacts with women. At times there are flash backs, and the feel of the cuts can at times lead to a certain level of confusion. Basically, Leung went to Singapore to get away after the events of In The Mood For Love. While there he started to gamble, which puts him in a difficult position when he wants to return to Hong Kong. But return he does thanks to the first of 2046's three women, a female gambler who lends a hand.
Once back on Hong Kong he ends up in a hotel, with the room number 2046 reminding him of when he was holed up in room 2046 in another hotel with Cheung trying to write martial arts stories. Moving into this hotel he wants to live in 2046, but instead gets 2047. From where he starts to write science fiction stories set in the year 2046, or a place called 2046, where people go to find memories they have lost, since nothing changes in 2046. Which is where the various flashes to an imaginary future come into the film. Contrasting the densely textured slice of 1960's Hong Kong with the almost intangible and shiny feel of a heavily CGI generated futurescape.
While living in this hotel and writing for the local newspaper to make a living, Leung has become an inveterate partier and ladies man. During his time in this hotel the other two significant women in the story come into his life. Ziyi Zhang plays Bai Ling, who to some degree is the female equivalent of Leung - always bringing someone different back to room 2046. The pair start to play around each other, initially as friends, but this grows till it becomes a relationship, though a difficult one. Zhang gets the most put upon role in 2046, embodying the character of unrequited love - a familiar role in Wong Kar Wai's films. She flirts and teases, plays hard to get, but falls for Leung. Which creates such an aching passion, as he plays the archetypal bastard to her unrequited love.
The third woman is the hotel owner's daughter, who actually appears before Ziyi Zhang, but doesn't get to play out her core story till later. Faye Wong takes on this role, coming to Leung's attention as she hangs out in room 2046 while it is vacant, practising Japanese. She has tensions with her father because she has fallen for a Japanese businessman, which her father can't allow, recalling the things the Japanese did to his family during the war. She disappears for a while, but returns later, still involved with the Japanese man. Which is when Leung gets involved, becoming a go between and witness. In this relationship Leung sees something of what he had in In The Mood For Love, Wong reminding him of Cheung, especially when the two start to write together. To a degree this is where the SF part becomes most focussed, Leung setting out to write a story for Wong. Trying to illustrate her situation via the interaction between a Japanese man leaving 2046 on an endless train journey and the android hostess he falls for.
The sequence of the film then flashes back to the start and fleshes out the role of the female gambler, as played by Gong Li. In the process completing the story of the 3 women - each reflecting a different facet of relationships and potential, with Leung in the centre, to a degree still caught up in the aftermath of In The Mood For Love. Ziyi Zhang has fallen for him, but he won't give in return. Faye Wong has something which he recalls, a reminder of the past and the happiness that was there. While Gong Li provides the most blatant reminder of Maggie Cheung and in the process actually provides a sliver of hope.
It is during the flashback to Singapore that I get a flashback of my own, something about a certain scene has such a resonance with the film Days Of Being Wild that I start to wonder whether it fits into the picture. Days Of Being Wild was one of Wong Kar Wai's early films, which I haven't seen in some years. But checking some details, the character played by Maggie Cheung in all three films is the same one. Which would suggest that 2046 is actually the third film in an ongoing sequence.
With that, 2046 is an anticipated and troubled film. Wong Kar Wai has attained a certain status that means a big new project creates interest. Coming from the success of In The Mood For Love, and trickling through the festival circuit raises that further. Acclaimed at Cannes, but the submission wasn't to Wong Kar Wai's satisfaction. Which saw a retraction, withdrawal from prominent place in the Edinburgh International Film Festival where it would have had it's UK premier in the same way as In the Mood For Love had done previously. There was talk of re-editing, even re-shooting some scenes. Which prompted the story that Tony Leung had shaved off his moustache in an order to discourage re-filming. Generating the question of when the scene with Leung having half a moustache was filmed; in at least one scene I was trying to decide whether his moustache had been drawn on. In the end some might find that 2046 still doesn't satisfy in this final version, even while admitting the sumptuous visuals.
But then Wong Kar Wai has always had a particularly disjoined narrative approach - think of the disparate stories of Chungking Express of Fallen Angels as examples of that. Regardless the degree to which 2046 recreates the look and feel of In The Mood For Love is striking - making use of the clothes, hairstyles, the whole texture of the piece. Of course Leung reprising his role helps, and there are also quick token flashes recalling Maggie Cheung, but there is also the re-appearance of the cheeky-chappy sidekick character of Ping. Even with how close 2046 is to the pervious film, 2046 is definitely a different film. For one it makes more use of dialogue, In The Mood For Love relying on the atmosphere to a greater degree. In some ways that may disappoint fans of In The Mood For Love, but for me part of what makes his films stand out has always been the charm of the dialogue. Something which particularly comes through in the interaction between Tony Leung and Ziyi Zhang's characters - which for me is the most affecting and memorable portion of 2046.
2046 sees Wong Kar Wai work with man of Hong Kong's top actors, many of whom he has worked with before. Tony Leung has been in In The Mood For Love, Happy Together, The Ashes Of Time and Chungking Express. Faye Wong was also in Chungking Express, while Carina Lau was in The Ashes Of Time. While Chen Chang was in Happy Together and Ping Lam Siu made his acting debut in In The Mood For Love. As for Maggie Cheung she was also in The Ashes Of Time, as well as 2046's predecessors Days Of Being Wild and In The Mood For Love. Of course many of these actors have been seen in other recent prominent Chinese films like Infernal Affairs, House Of Flying Daggers and Hero.
An odd hybrid film, 2046 sees Wong Kar Wai explore new territories. Though for all the differences it remains essential Wong Kar Wai.